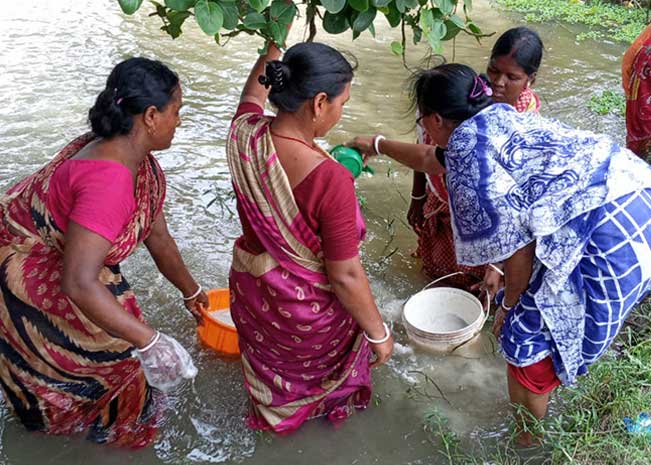 Relief Activities- Covid
More than 6000 women and their families were provided relief-dry ration, housing materials, menstrual hygiene materials etc
More than 250 women survivors of violence and vulnerable children were provided with ration repeatedly
In relief distribution process 81 local volunteers provided regular support along with 59 members of Nari Jagaran Committee who led from the front starting with selection of beneficiaries, assessment of the need, sorting the relief materials, preparing master-rolls and managing distribution of relief materials.
Reaching out on Covid and gender issues stemming from complexities
34 public awareness camps and 475 door to door campaign on covid across 10 GPs
Reached out to more 4000 people
382 banners and posters carrying 16 type of messages on covid related issues were put up across 6 GPs
Covid Test Camp in Villages
Fear of test, reporting symptoms kept the isolation centre established in collaboration with Sreenarayanpur Purnachandrapur GP in Pathar Parotima Block empty inspite of the local government creating awareness on the same
5 covid test camps conducted in 2 GPs- Sreenarayanpur Purnachandrapur & Dakshin Gangadharpur in Soutyh 24 Parganas reaching out to more than 637 people in collaboration with BMOH, Pathar Protima.
Community Kitchen & Cooked Meals
Meal support to 70 patients hospitalized in Pathar Protima BPHC of Sunderbans , either with covid or were in quarantine
640 meal support was also provided to vulnerable families, local health workers and covid warriors working tirelessly.
Covid Safe Home in Sunderbans
1 safe home with 8 beds started in Sreenarayanpur Purnachandrapur GP in Pathar Pratima Block, South 24 Parganas in Collaboration with the GP.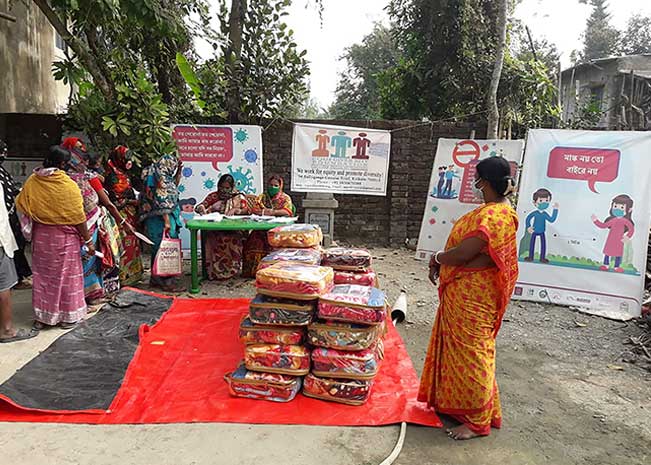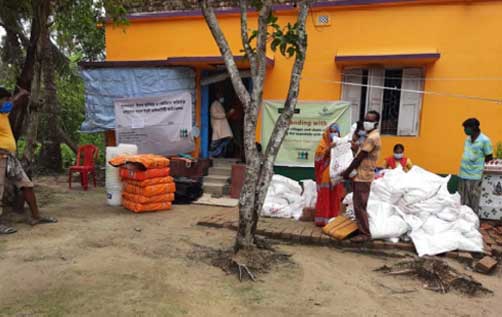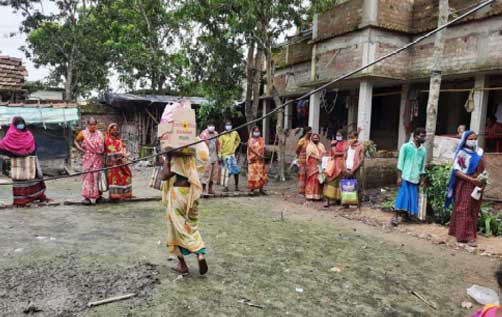 Dry Ration Support
Covid ration relief distributed to 1450 most vulnerable and at risk families in the 8 Gram Panchayats n Birbhum and South 24 Parganas.
Isolation Centres
Our advocacy efforts led to collaboration with the Nanoor Panchayat Samity, Block Hospital, 2 Gram Panchayats led to the start of 3 Isolation centres with 15 beds in Nanoor Block of Birbhum.
Mobilize 10 concentrators from Rotary, a group from Ghana and Tech Mahindra Foundation for the isolations centres in Birbhum 2 for Isolation Centres (converted from Safe Home) in Pathar Protima, Sourh 24 Paqrganas.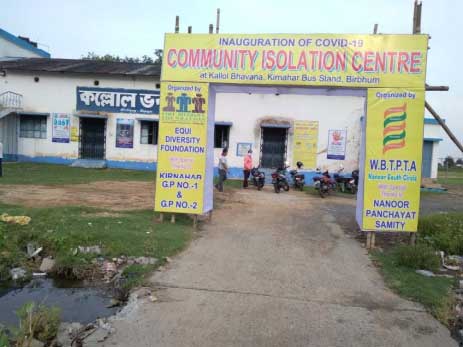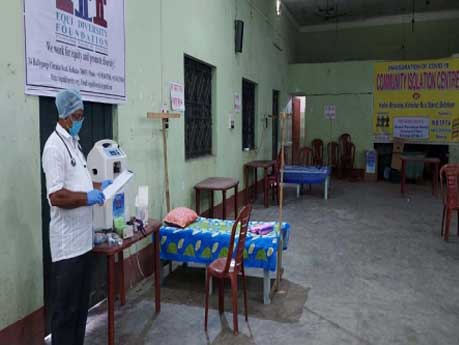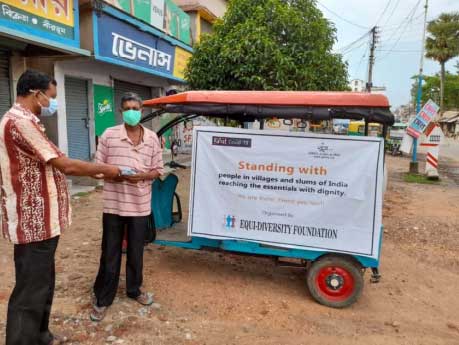 COVID Medicine Distribution
We s pported 200 families We supported 200 families with covid positive patients, with basic medicines in collaboration with Goonj.
Mobilized 12 oxymeters , 6 thermometers, 1300 masks, 1000 PPE kits for the Isolation centres in Birbhum and the health workers in South 24 Parganas.
Vaccination Drive
In Purulia Purulia , where covid awareness and vaccination is very low, our team were able to spread awareness about vaccination amongst 304 women and successfully arranged for vaccination of 190 of them through advocacy and linkage with government.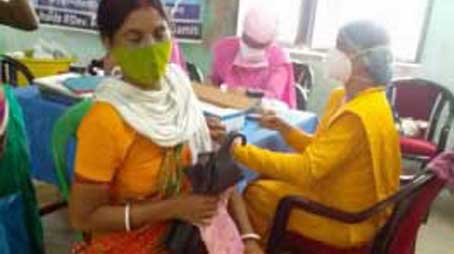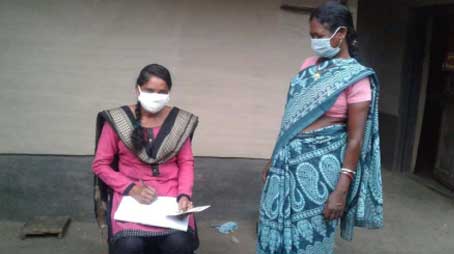 Covid Awarness
We also conducted 12 needs assessment programmes with children, youth and women to understand the issues bothering the community and the information and myths doing the rounds.
We reached out to 118 community people with needs assessment
Conduct 4 awareness programmes in the community about covid spread, safety measures, common symptoms, isolation centres and need to take vaccines.
Mental Health Support
Mental health support provided to women and children, survivors of violence and other vulnerable members.
73 sessions were conducted with 724 children and youth in these two months.
Tele counselling with the most vulnerable community- 181 women, youth and children going through anxiety, abuse, emotional distress- was our focus.
Home visits by our community volunteers, referrals and case follow up was done. 38 cases were handled during these two months.
Strengthening Livelihoods
Another highlight of this months was the Strengthening of the livelihood activities of 72 women whose capacities we developed last year. Taking advantage of the needs and requirements of covid safety measures, the women were able to take their activities to a business format earning a good profit.
Trade
Number of women involved
Quantity sold
Status
Buyers
Role of EDF
Three layer cotton mask making
17
28300 pieces
Ongoing
NGOs for relief kits, local market, local business

-Training and handholding

‐Support to get orders

‐Support for courier

‐Office support for space

‐Loan for capital (initial)

Detergent Soap
29
185 kg
Waiting for materials from kolkata. Lockdown is an issue for delivery
NGOs for relief kits, local market, local business

-Training

‐Support to get orders

‐Support for courier

‐Office support for space

‐Loan for capital (initial)

Puffed Rice making
12
300 kg
Ongoing
NGOs for relief kits, local market, local business

-Machine

‐Training

‐Support to get Orders

‐Packaging support (initial)

Gram Flour
14
600 kg
Ongoing
NGOs for relief kits, local market, local business

-Machine

‐Training

‐Support to get Orders

‐Packaging support (initial)

Masalas (turmeric, cumin, chill)
150 kg
Ongoing
NGOs for relief kits, local market, local business

-Machine

‐Training

‐Support to get Orders

‐Packaging support (initial)
Support to the Migrant Workers in our field areas
Advocacy with GP, links with govt department mechanisms for linking 163 migrant workers stuck in different parts on India for their safe return
42 migrant workers provided with dry ration stuck in Gujarat and Pune through advocacy and networking
Translation of a booklet in Bengali (written by Nandita Haskar) on the migrant crisis